Secure your money and watch it grow too!

---
Opt for Baroda Advantage Fixed Deposits and get multiple benefits.
Baroda Advantage Fixed Deposits (Non- Callable)
Product Specification
This is a Domestic term deposit product wherein depositor gets differential rates interest over normal FD Deposit's rate for deposits of Rs 15.01 lacs and above for foregoing premature withdrawal option.
Area Of Operation
The product shall be available at all domestic branches.
Applicable Scheme
Deposit can be accepted under:

Individual and Non-individual other than banks

Non-Callable FD RIRD: - under this scheme Interest on Deposit is paid on maturity.
Non-Callable FD MIP DISC: - under this scheme Interest on Deposit is paid on monthly basis.
Non-Callable FD QIP:- under this scheme Interest on Deposit is paid on quarterly basis.

Banks

Non-Callable FD RIRD- under this scheme Interest on Deposit is paid on maturity.
Non-Callable FD MIP- under this scheme Interest on Deposit is paid on monthly basis.
Non-Callable FD QIP- under this scheme Interest on Deposit is paid on quarterly basis.




*Short Deposit is not available in this product

Eligibility And Target Group

An individual in his own name.
Jointly by more than one individuals.
Minor of age above 14 years on terms as laid down by the Bank.
In the names of Clubs, associations, Educational Institutions, Co-Operative Banks, Grameen Banks, Private banks, Partnerships and joint stock companies and any other institutions, which are eligible to open a Term Deposit, account as per Bank rules.
The product is not available for minor account having age of 14 years and below and the maximum amount that can be accepted in minor account of this age group is Rs.1,00,000.

Minimum Amount Of Deposit
Rs.15,01,000 ( and further in multiple of Rs.1000)
Maximum Amount Of Deposit
No limit
Period Of Deposit

Minimum – 12 months
Maximum – 120 months

Rate Of Interest
Preferential rate of interest as decided by Bank from time to time will be applicable to these FDR, over the card rate. Pls refer to Interest Rate Section for latest applicable ROI.
Note: Additional interest to Senior Citizens & Staff members (including ex-staff & Retired Staff Members who are Senior Citizen) will continue as per guidelines effective from time to time.
Frequency of Interest Payment
Frequency of Interest payment in the account will be similar as applicable on Normal Term Deposit (callable deposits) product.
Nomination Facility
Nomination facility will be available.
Tax Deduction At Source
Interest payment is subject to Tax Deducted at source (TDS) as per prevailing Income Tax ACT.
Availability Of Loan/Overdraft
Loan/ Overdraft facility to be permitted up to 85% of outstanding balance at applicable interest rate over interest rate paid on deposit as per Bank's extant guidelines.
Auto Renewal Facility

Deposits having value less than Rs.2 crores on date of maturity, shall be renewed automatically for 12 months at prevailing rate of interest applicable for 12 months period as on the date of maturity under Normal FD scheme (callable FD Scheme) in case of RIRD/MIP/QIP.
In case of deposits having Principal value Rs.2 crore and above (bulk deposits), will be renewed automatically on maturity under normal respective Normal FD scheme (callable FD Scheme) if such instruction are given by depositor at time of opening the account. In the absence of any renewal instructions, the proceeds of such deposits will be credited to depositor's operative account on maturity.

Closure Of Account
Account can be closed on maturity only as per Rule of existing Term Deposit A/C.
Special Terms & Conditions
Accepted as security by Government departments & as margin for non-fund based activities subject to their acceptance for not demanding premature payment.
Other Terms And Conditions
Eligibility norms and all other instructions applicable to 'Fixed Deposits 'will apply to these deposits
Rate of Interest to Senior Citizen: An Additional interest @ 0.50 % is payable for deposits below Rs.1 crore only.
Tax Deduction at Source: TDS will be deducted as per income Tax rules. No TDS will be deducted if a person submits form 15G/ 15H as applicable.
Method of Calculation of Interest on or before Maturity: "In all cases of domestic term deposits where the terminal quarter is incomplete, interest should be calculated for the actual number of days, reckoning the year 365/366 days viz the calculation of interest on such deposits should be in order of completed quarters and days." Interest will be calculated and compounded at quarterly rests.
TDS Certificate: TDS certificate will be provided to all customers.
Advance against Deposits: This facility is not available to Minor account in single name and HUF. If the interest is not deposited for more than 2 quarters, term deposit will be apportioned immediately.
Interest Certificate available at request of customer
Deposit Certificate – Term Deposit Receipt is provided
Term Deposits can be transferred from one branch to other branch at the request of the customer.
Mode of Payment: Maturity proceeds are credited SB/ CA account of the customer.
---
Bulk Deposits (Rs.2 crore & above)
"Bulk Deposit" means a single Rupee Term Deposits of Rs. 2 Crore and above (RBI/2018-19/128, DBR.DIR.BC.No.27/13.03.00/2018-19 dated.22.02.2019).
In case multiple deposits are created on same day aggregating Rs.2.00 Crores and more, but the same mature on different dates, then it will not tantamount to splitting of Bulk Deposit. Also multiple deposits created on same day aggregating Rs.2.00 Crores and more with same maturity period but for different specific purposes will not tantamount to splitting of Bulk Deposit, provided the customer submits supportive documents for the same.
---
Pre- Mature Withdrawal Condition
As per Direction of RBI, Bank can pay differential rate of interest on term deposit above Rs.15 lacs and without premature withdrawal option.
In light of above direction, Bank has made Non-callable Deposit where minimum deposit is of Rs.15.01 lacs with additional interest revised from time to time and without premature option.
In exceptional condition premature withdrawal permission may be granted by Head Retail Liability Vertical. The Retail Liability Head will assess the exceptional condition and after being satisfied with the reason he may allow. Exceptional Conditions are:

Branch made deposit erroneously.
Non-Callable auto renewed in Non-Callable
Customer wanted modification within 15 days of making of Non- callable Deposit
Customer's Death.
Non- callable Deposit held in the name of Govt Bodies.

In case of Premature Withdrawal, the rate applicable to Non- Callable shall not be applicable and the deposit will be treated as Callable Term Deposit. Further 2% Penal Interest on callable deposit rate will be applicable for premature payment of deposits (i.e. the date of contract) for period for which the deposit has actually remained with the Bank or the Contracted Rate whichever is lower. Penalty will not be applicable in case of error made by the branch.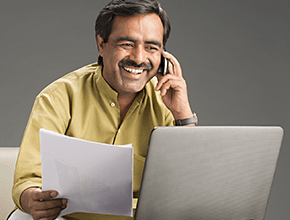 Request Callback
Please fill in these details, so we can call you back and assist you.

Baroda Tax Savings Term Deposit Account

Baroda SUVIDHA Flexible Fixed Deposit Scheme

Capital Gain Account Scheme, 1988

Flexible Recurring Deposit Scheme

Monthly Income Plan (MIP)

Motor Accident Claims Annuity Deposit (MACAD) TD178

Baroda Recurring Deposit Scheme

Baroda Regular Income cum Recurring Deposit (RIRD)

Quarterly Income Plan (QIP)

Baroda Short Term Deposits