Helping millions of Indian farmers benefit from our schemes.
---
Bank of Baroda, for rural India, with rural India.
Silos/Godowns for Storage of Agriculture Produce
Particulars
Guidelines under the scheme
Purpose

Financing new project i.e., acquisition/construction of Silos, storage facilities, plant and machinery etc., based on project cost including the takeover of existing units.
Working capital requirements for the operational requirement of the project.

Eligibility


All advances to new/existing borrower (including take over from other banks) for acquisition/construction of storage facilities/Silos for food grains on DBFOT basis in PPP model under tie-up with Food Corporation of India/other Government (Central and State).
Individuals, proprietorship concerns, partnership concerns, limited liability partnership concerns, private limited companies and public limited companies.

Quantum of Loan
Minimum Limit: Rs. 10 crores
Maximum Limit: Rs. 100 crores
Nature of facility
Term Loan/Demand Loan/Cash Credit/Bank Guarantee/Letter of Credit etc.
Rate of Interest
As per RBI/bank's guidelines revised from time to time.
Margin

20% for Term Loan
25% on Stock and Receivables

Repayment Period

In EMI/ballooning instalments, after initial moratorium period.
Maximum period: Not to exceed 15 years.

Subsidy
-
Security
-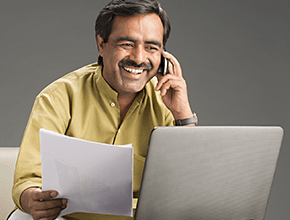 Request Callback
Please fill in these details, so we can call you back and assist you.

New Scheme for Tractor

Advances to Food Agro Based Units Under Agriculture

Agriclinics Agribusiness Centres by Agriculture Graduates

Scheme for Financing Farm Development Activities

Baroda Animal Husbandry and Fisheries Kisan Credit Card (BAHFKCC) Scheme

Baroda Kisan Credit Card (BKCC)

Baroda Kisan Tatkal Loan Scheme

Baroda Sanitation Scheme

Construction Of Storage Structure Projects

Cultivation of Crops (Excluding Plantation and Horticultural Crops)

Financing Against Warehouse Receipt

Financing Agencies Providing Custom Services To Farmers

Financing Construction of Farm Buildings Structures

Financing Development of Dairy, Poultry, Fishery, etc.

Scheme for Financing Farmer Producer Companies / Organizations (FPCs / FPOs)

Financing Four Wheeler Loans to Farmer

Financing Irrigation

Financing of Joint Liability Groups

Financing Protected Cultivation projects (Green House/Poly House/Shade Net House/Plastic tunnels & Walk in tunnels/Anti-bird/Anti-hail nets/plastic mulching/Hydroponics/Aquaponics and Aeroponics etc)

Financing Tractors and Heavy Agriculture Machinery

Financing Under Self Help Groups (SHGs)

Installation of Gobar Gas/Biogas Plants

Installation of Solar Home Lighting Systems

Lending to Agriculture Other Priority Sectors demand loan for financing against

Loan for Installation of Solar Photovoltaic Pump Sets

Overdraft Scheme for Working Capital Assistance to the Food Agro Processing Unit

Scheme for Financing Mini Dairy Units

Scheme for Financing NBFC-MFIs

Scheme for Financing Pradhan Mantri Matsya Sampada Yojana (PMMSY)

Scheme for Financing under Agriculture Infrastructure Fund

Scheme for Purchase of Agriculture Land

Shahari Bagwant Yojna

Two Wheelers (Motorcycle/Scooter) Loan to Farmer

Warehouse/Storage Receipts to Food and Agro Unit Enjoying Credit Facility with our Bank

Planters Card Scheme

Loan/Overdraft Against Bank's Own Deposit (Labod/Odbod)

Pradhan Mantri Kisan Urja Suraksha Evam Uthaan Mahabhiyaan (PM-KUSUM Scheme)

Purchase of Estates/Orchards Growing Traditional Plantation Crops

Scheme for Development of Horticulture

Scheme for Financing Compressed Biogas (CBG)

Scheme for Financing Facility under PM Formalization of Micro Food Processing