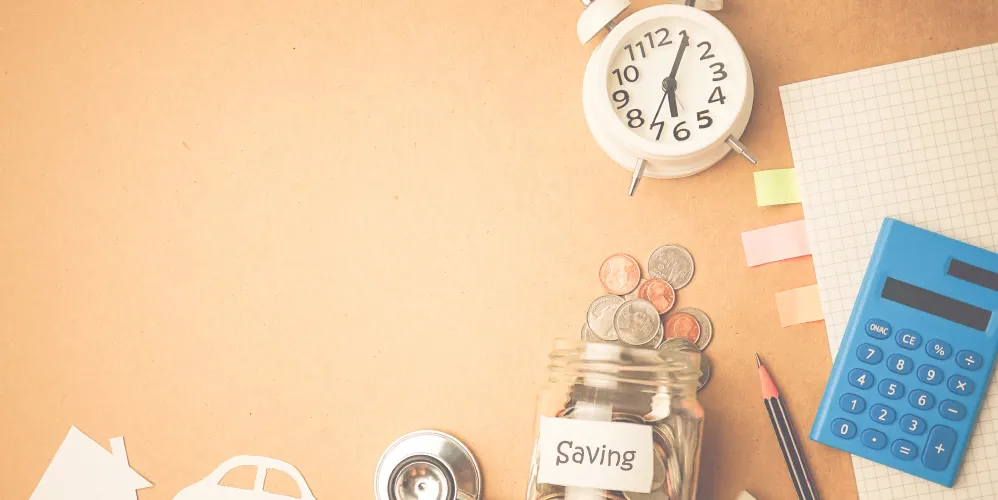 Recurring Deposit V/s Fixed Deposit: 4 Differences
Today, maintaining a bank account has become a norm. You need to provide your bank account number on various occasions; like receiving the salary from employer or subsidy from the government under a scheme. And most people open either fixed deposits or recurring deposits.
There are several reasons why people confuse a recurring deposit and a fixed deposit. Their similar features and benefits like steady returns, safety of capital, and popularity as saving vehicles leave people confused and some of them are left asking, "What's the difference?" between a recurring deposit and a fixed deposit.
Granted, both are great fixed income products, but here are a few major differences between the two that are worth knowing about, to make better informed choices between them-
What is a Fixed Deposit?
A Fixed Deposit is a saving instrument where you put a lump sum amount for a fixed period of time and earn a fixed rate of interest. On maturity you earn the principal invested along with the interest, which you can always reinvest! They are also called term deposits because you park money in them for a given tenure.
What is a Recurring Deposit?
Recurring deposit is a type of term deposit where the objective is to inculcate the habit of saving and the incentive is that you earn a fixed rate of interest on investing a fixed sum of money on a regular interval. Unlike an FD, where you invest a lump sum for a definite period of time and receive fixed returns, in RDs you are allowed to invest a fixed amount at regular intervals, like say on a monthly basis.
Maturity
When an FD matures, you receive the principal you invested along with the interest you earned, and when an RD matures, the depositor receives the total amount, which is the amount of money you invested on a regular basis along with the interest earned on it. Here due to the compounding effect, you may find, an FD earns more on maturity than an RD, but RD offers flexibility and is a good start if you want to start saving small, in the beginning of your investment journey.
Intent to save periodically or lump sum
Generally, depositors go for FDs when they have a lump sum amount of money to park in a savings instrument to earn a decent and stable return. But if they want to get into the habit of saving and earn interest income on small sized but regular savings, then RD is the way to go!
Taxation
Withdrawal
An early withdrawal of a fixed deposit can result in penalty. So, for example, if you put your fixed deposit for a five-year lock-in period, you cannot withdraw the money until it matures. Doing so may attract a penalty of 1 per cent. However, recurring deposits are the ideal investment platform in case you're planning short-term goals. These include saving up for a down payment for your home, or paying for a child's education.
Recurring Deposit- Features & Benefits
what is recurring deposit, what is recurring deposit account, what is meant by recurring deposit, what is a recurring deposit account, what is recurring deposit in bank, what is a recurring deposit account in bank, what is the benefit of recurring deposit, what is recurring deposit scheme, what is the use of recurring deposit, recurring deposit meaning, meaning of recurring deposit account, RD account benefits
The best way to grow your corpus and begin investing is to put money into an investment regularly. Investments that call for regular installments not only help to build up savings, but they also enforce discipline among the investors. One of the most popular investments that meets the description above is a recurring deposit or RD. Read this handy guide to know what is the meaning of recurring deposit account and what are RD account benefits.
What is a recurring deposit account?
A recurring deposit is a type of deposit in which there are fixed installments that have to be invested in an account at fixed intervals of time for a pre-decided period. Since the installments recur or fall due at regular intervals, it is called a recurring deposit. That is the recurring deposit meaning.
Different banks may specify different installment frequencies i.e monthly, quarterly, or half yearly. The most popular option offered by most banks is the monthly installment system. In this, the depositor has to pay a pre-decided amount into the recurring deposit account every month. The investor can decide the installment amount subject to the minimum rules set by the bank. It is even possible to open a recurring deposit account with an installment as low as Rs. 100.
What is the recurring deposit scheme?
Let us understand what is meant by recurring deposit

The depositor has the flexibility to choose his tenure for the recurring deposit. The bank may have special schemes going on where you have to deposit a certain installment for a particular tenure. The depositor however can decide how long he wants to invest. The standard minimum tenure is 6 months and the maximum tenure goes up to 10 years
All the recurring deposits mature on the same day.
The installments are due to be deposited or credited into the recurring deposit account on the same day every month, quarter, or half year as applicable.
Usually the rate of interest offered on recurring deposits is similar to the fixed deposit rates offered for the same tenure by banks.
Premature withdrawals from a recurring deposit are generally not allowed unless the bank charges a penalty in terms of interest rate. The rate of interest on a premature withdrawal is less than the actual rate and that is the penalty

What is the benefit of recurring deposit?
A recurring deposit account is an excellent investment option, especially for those who may not have a large amount to invest. There are several benefits of investing into a recurring deposit account

Goal based saving: One of the best advantages of a recurring deposit is that it can be used as a tool for goal based savings. Using a recurring deposit calculator, you can find out exactly what the total maturity amount is. This is especially useful for short term fund requirements, such as education expenses or saving for a wedding or travel expenses. A recurring deposit can help you grow your savings in a very systematic manner.
Loan against RD: While it is not allowed to withdraw funds from a recurring deposit before maturity, it is possible to take a loan against the balance in a recurring deposit. Most banks give out loans against 90% of the recurring deposit balance.
Saving for Minors: Banks allow parents and legal guardians to open a recurring deposit account for minors. This can be used as an effective way to save for the child's education expenses. The recurring deposit can mature just before the child's school year is set to begin, thus meeting the need for school fees.
Tax break for senior citizens: Under Section 80TTB of the Income Tax Act, senior citizens get a deduction of Rs. 50,000 for interest earned. This includes interest on fixed deposit, recurring deposit, savings account and any other type of interest. This makes a recurring deposit account that much more attractive to invest in since the interest will get a deduction.
TDS relief: Banks do not deduct tax on recurring deposit interest unless the total interest on all deposits crosses Rs. 10,000 in a particular financial year. However, by submitting Form 15G/15H, a depositor can get relief from TDS provisions.

We understood what is a recurring deposit account and what is the use of a recurring deposit. With this information, you can decide whether a recurring deposit is the right investment for you.
Tax Benefits Under NPS One Can Avail of
National Pension Scheme or NPS is a central government scheme for all those who want to save for their retirement days early on. So if your retirement is still some time to go and you are already planning to make arrangement for your golden days, the NPS is your ticket to achieving these goals. There are several benefits of the NPS scheme as it is a low risk scheme. The tax benefits that come with the NPS make it a great choice of investment. Here are some of the NPS tax benefits:
NPS tax benefit for individuals:
Any person subscribing to the NPS is eligible for a tax deduction of 10 % of his/ her gross income up to Rs1.5lakh under the section 80 CCD (1) of the Income Tax Act. In an exclusive tax saving benefit, you are also eligible for an additional deduction for investment up to Rs50,000 in NPS (Tier I account) under subsection 80CCD (1B). This exclusive benefit is over and above the deduction of up to Rs 1.5 lakh under section 80C. NPS tax benefits for individuals under corporate sector
You are eligible for an additional tax benefit if you have subscribed to NPS scheme under the corporate sector. This deduction is under the section 80CCD (2). Under this the employer's NPS contribution up to 10% of salary (Basic + DA) is deductible from taxable income, without any monetary limit.
NPS tax benefits for corporates
Corporates making contribution towards employee's NPS is deducted as business expense from their profit and loss account. So the employer's contribution towards NPS up to 10% of salary (Basic + DA) can be deducted as NPS tax exemption.
NPS tax benefits on partial withdrawal
National pension scheme tax benefits is that you can partially withdraw funds from your NPS tier-I account .This benefit is available for specified purposes only. The amount withdrawn up to 25% of your contribution is exempt from tax.
NPS tax benefit on annuity purchase
If you invest funds in annuity, it is completely exempt from tax. Only the income from annuity received in the subsequent years is taxable.
NPS tax benefit on lump sum withdrawal
When you are 60 years old, if you withdraw the funds in lumpsum, maximum 60% of the corpus can be withdrawn from which 40% of the corpus is exempted from tax.
One of the biggest selling points for NPS is the additional tax benefits attached to the scheme. If you have a low appetite for risk and want to plan for your retirement days, invest in an NPS now. Click here to invest in an NPS tax saving scheme.